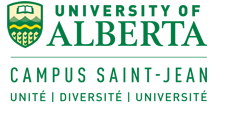 Presented below are the 14 recommendations for Francophone and French immersion education that have resulted from the curriculum analysis completed by the Education team at the Faculté Saint-Jean. These recommendations represent only the positions of the members of the team who took part in this analysis.
– Natalie Boisvert, Laurent Cammarata, Diane Campeau, Martine Cavanagh, Katherine Deren, Doris Charest, Samira ElAtia, Laurier Fagnan, Chantal Grégoire, Marianne Jacquet, Denis Lacroix, Émilie Lavoie, Eva Lemaire, Carol Léonard, Randy Lyseng, Dominic Manuel, Johanne Patry, Martine Pellerin, Pierre Rousseau, Chantal Viens
In our opinion, the curriculum draft in its present form contains numerous gaps, and we hope that it will not be piloted with students until these gaps are filled. As people entrusted with the training of future teachers, we would have very much preferred being able to participate in each step of curriculum development so that this document could be as appropriate as possible to the particular needs of the Francophone and French immersion students of the province of Alberta.
1. Clarify and make explicit the links between the cross-curricular competencies, expected outcomes, learning subjects and evaluation methods. Without a complete view of the alignment of these fundamental elements of a program of studies, it is difficult to get a good grasp of the authors' vision.
2. Reconsider the choice and progression of learning outcomes to make sure that they reflect research on the development of growing children and allow students to use higher-level thinking skills (e. g. justifying, analyzing, criticizing, proposing solutions, creating, etc.). In the same vein, evaluate the pertinence of distinguishing learning outcomes linked to knowledge from others linked to understanding. These two categories seem to be inter-related to the point of overlapping.
3. Re-invest the cross-curricular competencies and general objectives (found in the Guiding Framework, in the competency progressions and literacy and numeracy progressions) directly into the programs. Without a clear alignment between the different documents, and without the explicit insertion of the competencies and general objectives into the different subjects, these competencies will be hard to integrate into what happens in class. Research has suggested a link between highly coherent programs and improved school system outcomes (Oates 2010).
4. Establish more links between concepts to help students build hierarchical knowledge networks rather than simply acquire knowledge in isolated bits. Research on learning has clearly demonstrated the importance of knowledge networks in facilitating the commitment of knowledge to memory, as well as its recall for transfer to a variety of different contexts.
5. Go back to the conclusions that came out of the public consultations held since 2014 and audit the different subjects to see if their content and orientation align with these same conclusions. For example, see the document entitled Understanding the Shifts:
Alberta has defined a competency as "an interrelated set of attitudes, skills and knowledge that is drawn upon and applied to a particular context."
Shift: Learners will still study subjects such as Language Arts, Mathematics, Science, Art and Wellness – but a greater focus on competency development will help students make meaningful connections within and among subjects.
Shift: From "prescriptive curriculum with limited flexibility" to "more opportunities for local decision making and greater depth of study."
Final shift: Less sequential development, more synchronous development.
6. Add an organizing idea on the integration of language and literacy into the teaching of all subjects (in French immersion and Francophone education).
7. Consult with minority Francophone education stakeholders to re-do the integration of Francophone perspectives within an inclusive perspective promoting equity across the curriculum, to support students in the construction of their identity using a long-term approach.
8. Consult with French immersion stakeholders to allow for an improved integration of cultural references that can help students discover cultural diversity and the French-speaking world and be proud of belonging to the wider Francophone world.
9. In its present version, the curriculum contains numerous gaps in its integration of Indigenous knowledge and perspectives and demonstrates an obvious lack of authentic collaboration with the First Nations, Métis and Inuit communities that inhabit their ancestral lands. To be able to model a true and sincere approach to reconciliation, teachers need a curriculum that affords a greater place of honour to the expertise of elders, knowledge keepers, Indigenous educators and the organizations representing different nations. It would be preferable to consider separately Francophones' roles and responsibilities in both colonization and reconciliation.
10. Provide a bibliography that includes articles by English- and French-speaking authors that lay out the theoretical framework within which the choices concerning content and grade-to-grade progression have been made.
11. Set out guidelines for the evaluation of learning.
12. Provide student manuals, open access electronic teachers' manuals and non-prescriptive resources to facilitate access to resources everywhere in Alberta, whether at home or at school. It would be good to provide for quality educational resources that correspond to the goals of the curriculum and present different perspectives (Indigenous, minority, diverse, Francophone), and do it in all subjects. A regularly up-dated resource bank would give teachers access to quality resources.
13. Put into perspective the development of basic general competencies such as problem-solving, reasoning, and communication. Give precedence to pedagogical approaches such as the research and investigation method to support students' rich and deep learning of mathematical and scientific concepts through interaction and the co-construction of knowledge. These competencies and approaches are essential to the formation of future citizens capable of adapting and innovating in a society that is constantly evolving.
14. Considering the importance and even gravity of the social and educational issues raised by the digital revolution, it is recommended, in a spirit of respect for the importance of education and training, that the teaching of every subject be centred on an accurate representation of the aforementioned issues, in order that learners be better prepared to take up the collective civic project of ensuring the healthy and positive use of technologies.
Members of the team who took part in this analysis include Natalie Boisvert, Laurent Cammarata, Diane Campeau, Martine Cavanagh, Katherine Deren, Doris Charest, Samira ElAtia, Laurier Fagnan, Chantal Grégoire, Marianne Jacquet, Denis Lacroix, Émilie Lavoie, Eva Lemaire, Carol Léonard, Randy Lyseng, Dominic Manuel, Johanne Patry, Martine Pellerin, Pierre Rousseau, and Chantal Viens.